Conference
March 21, 2021 at 7:00AM
– March 26, 2021 at 1:00PM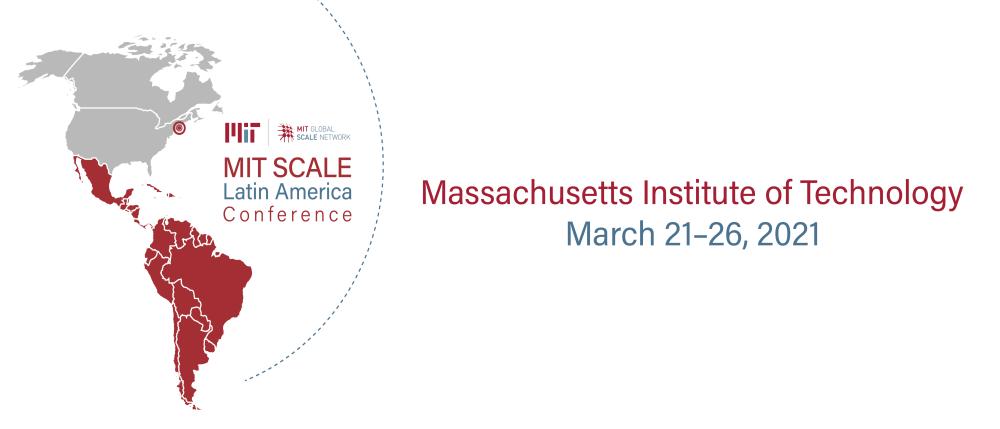 We're excited to announce that the MIT SCALE Latin America Conference will be held virtually in 2021. Now, you can join from anywhere in the world to review over 100 presentations from top academics from across Latin America and the Caribbean and participate in three keynote virtual plenary sessions.
The MIT Latin American SCALE Network is an alliance of leading-edge research, education, and outreach organizations dedicated to the development and dissemination of innovative supply chain and logistics research in Latin America. The network helps companies, governments, and organizations to compete in an increasingly complex business environment and engage academia, students, and partners to collaborate on projects that have an in-depth economic, societal, and environmental impact.
As part of the mission of the SCALE Latin America Network, we invite you to participate in the 2020-2021 MIT SCALE Latin America Conference to be hosted remotely on March 21-26, 2021. Organized by the MIT Center for Transportation & Logistics (CTL) in collaboration with the Center for Latin-American Logistics Innovation (CLI). The main goal of the conference is to provide a forum for sharing high-impact educational and research in logistics and supply chain management relevant to Latin America.
For more detailed information on SCALE LatAm, please visit the official conference webpage.